Moon Lake Dubai is a new Attraction for the people who are desert lovers.
This Photographer Has Found A Moon Lake In The Middle Of The Dubai Desert!
To all the different types of lakes, the beautiful city of Dubai has, here's an addition to that list. A photographer from Dubai recently discovered a Moon shaped Lake in the middle of the Dubai Desert. This lake has the mesmerising shape of the crescent moon, the photographer calls it a 'hidden gem'. In his Instagram post, he said that this lake is full of nature around it. If you ever get the chance to visit this beauty you will find a lot of oryxes there! Enjoy the video below: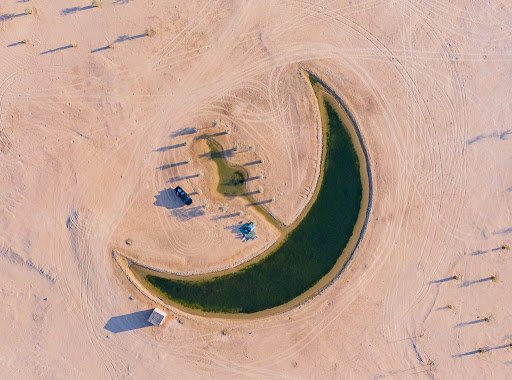 The moon shaped lake is right here in Al Qudra, Dubai
What to type on Google Maps to find it
Here are the coordinates 24.7874218, 55.3065662 type that in to Google Maps and start your journey or click here Moon Lake Dubai Location.
While visiting these places is truly a sight for sore eyes, it's important to remember that they are a part of nature (even if it's man-made) and deserve to stay clean.