Dubai has more than 120 biggest shopping malls, making it undoubtedly one of the world's top shopping destinations. Shopping malls in the city are not only filled with retail therapy; they are also filled with indoor retail parks, cultural attractions, and lots more. Choosing a retail destination next time you want to shop might be easier with UAE WAVE's list of the 10 best shopping malls in Dubai.
THE DUBAI MALL
Downtown Dubai is home to The Dubai Mall, the largest shopping mall in the world. As well as being the world's most visited shopping mall, it contains over 1,300 retail stores, two anchor department stores, Galeries Lafayette and Bloomingdale's, as well as 200 food and beverage outlets. It offers brands such as Alexander McQueen, Valentino, Gucci, Chanel and Ralph Lauren. A total of 5.9 million square feet of indoor space is available. In addition to its array of retail and food outlets, the mall also offers 22 screens, an Olympic-sized ice skating rink, and a 270-degree walk-through tunnel featuring the Dubai Aquarium and Underwater Zoo. Additionally, The Dubai Mall and Address Dubai Mall & Blvd., two 5-star luxury hotels, are located adjacent to the iconic Burj Khalifa.
MALL OF THE EMIRATES
Mall of the Emirates, the world's first shopping mall, has 2.4 million square feet of retail space. A multilevel shopping mall can be found in Al Barsha, which houses more than 630 international brands. Besides department stores and one of the largest Carrefours in the city, it houses a number of fashion, lifestyle, sports, electronics, and home furnishing outlets. Mall of the Emirates offers not only shopping outlets, but also a 14-screen cinema, Middle East's first indoor ski resort and snow park, the Dubai Community Theater and Arts Center (DUCTAC) and more than 90 international restaurants and cafes. In addition to its luxury hotels, The Kempinski and The Sheraton, the mall also houses an array of other facilities for its guests.
DUBAI FESTIVAL CITY MALL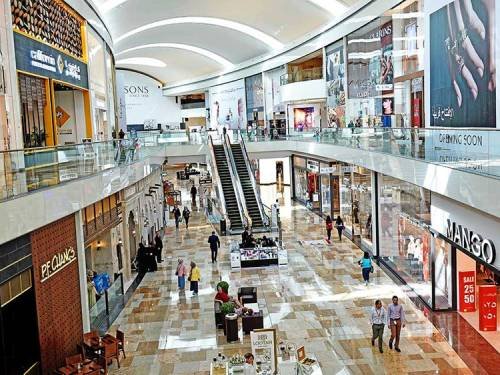 Dubai Festival City Mall is located on the banks of Dubai Creek and features over 500 stores and brands. Besides its IKEA, the complex also boasts a flagship Zara store, an array of food and drink outlets, a luxury department store, and the largest luxury department store in Dubai. A number of added attractions are available to guests at the mall, including a canal ride and an 18-screen 7-star movie complex. The mall offers an array of entertainment, including dancing fountains and immersive imagery that features pillars of fire and dramatic sound. Two Guinness World Records have also been earned for the show which integrates science, technology and art. At Dubai Festival City Mall, guests will find a number of luxury 5-star hotels that include Crowne Plaza, InterContinental, and Holiday Inn.
IBN BATTUTA MALL
Its six courtyards draw their inspiration from the regions that Ibn Battuta visited, such as Andalusia, Tunisia, Egypt, Persia, India, and China. The mall combines shopping, dining, entertainment, and a story of an extraordinary adventure with history, culture, and entertainment. This mall has a wide variety of fashion, lifestyle, and sporting shops, including anchor stores like Debenhams, Geant, Marks & Spencer, Sharaf DG, and Decathlon, along with a variety of food and beverage options. As well as having 21 screens, it hosts a world and Hollywood cinema. The indoor tea gardens and elaborating tiling in this beautiful mall are complemented by a giant golden elephant and a high ceiling painted to resemble blue skies.
BURJUMAN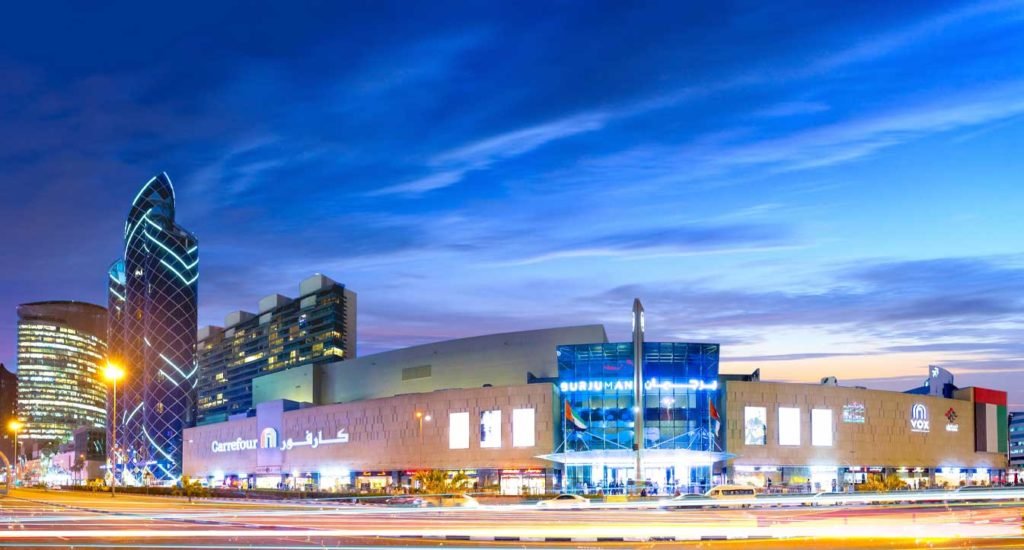 Bur Juman is centrally located in Dubai's heritage and business district of Bur Dubai, and is home to brands such as luxury watches, perfumes and clothing. In addition to food and beverage outlets, the mall is home to Nando's, Yu Sushi, Pancake House, China Kitchen by Mainland China, California Pizza Kitchen, and Yellow Chilli. Additionally, BurJuman has a 14-screen modern cinema as well as a kid's cinema.
CITY CENTRE DEIRA
First opened in 1995, City Centre Deira was the Middle East's first large-scale mixed-use shopping destination, combining retail outlets, restaurants, entertainment facilities, and a hotel. With a total of over 371 retail stores and services, as well as a wide range of food and beverage outlets, the mall covers an area of over 123,028 square metres. Twenty screens with 3,000 seats are among the mall's entertainment facilities. Guests have direct access to the Pullman-managed City Centre Hotel & Residence.
CITY CENTRE MIRDIF
Over 430 stores are located in City Centre Mirdif, as well as a host of unique leisure and entertainment attractions, restaurants and cafes. A number of anchor stores are located in the shopping center, including Carrefour, Playnation, Debenhams, Emax, Centrepoint, and Home Centre. Besides community areas, medical clinics, spas, personal grooming facilities and a fitness center, the centre covers an area of over 196,000 square metres. Children between the ages of two and eight have access to a fun water-based 'edutainment' recreation facility at City Centre Mirdif. In addition, it offers a 10-screen state-of-the-art cinema.
WAFI MALL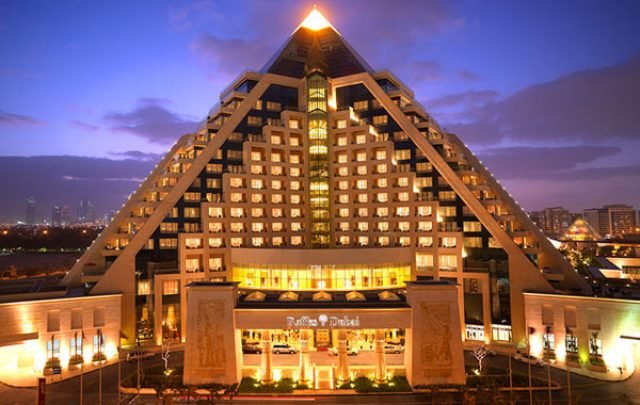 A modern interpretation of the Pharaohs is reflected at Wafi Mall, which draws inspiration from Egyptian and Turkish architectural styles and boasts exquisite stained glass, mosaics, carvings and sculptures that capture the epic splendour of the Pharaohs. More than 350 retailers and 30 food and beverage outlets are located in the mall. Additionally, it is home to Souq Al Murjan, a market featuring 150 merchants and shops from the Arab world.
DUBAI MARINA MALL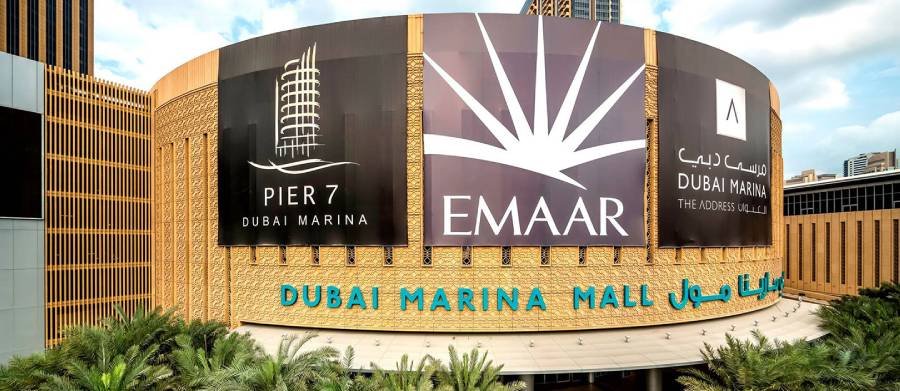 Dubai Marina Mall, a casual shopping mall located in the upscale waterfront community of Dubai Marina, hosts an array of high-street fashion brands, aspirational couture, al fresco dining, and a supermarket. Children's entertainment options as well as a cinema are available at the mall. The Address Dubai Marina Mall, a 5-star premium luxury hotel, enhances the luxury factor of the mall.
MERCATO MALL
In Jumeirah, the Mercato Mall embraces the sights and sounds of a Renaissance-style Italian village. In the mall you can find international brands such as Laura Ashley and Jack Wills as well as bakeries such as Cakery Epicerie by Stephane Glacier and Alison Nelson's Chocolate Bar. A number of entertainment options are available at the Mercato Mall, including a movie theatre with multiple screens and games for children.