Over the weekend and during busy holiday periods, authorities recommend advance reservations for Jais Sledder.
Thrill-seekers can zoom down the UAE's highest mountain at speeds of up to 40kmph with a new adrenaline-filled attraction that opened on February 16. Two people will be able to ride Jais Sledder, the longest toboggan ride in the region. The ride base and the Jais Adventure Centre sell single- and multi-ride tickets.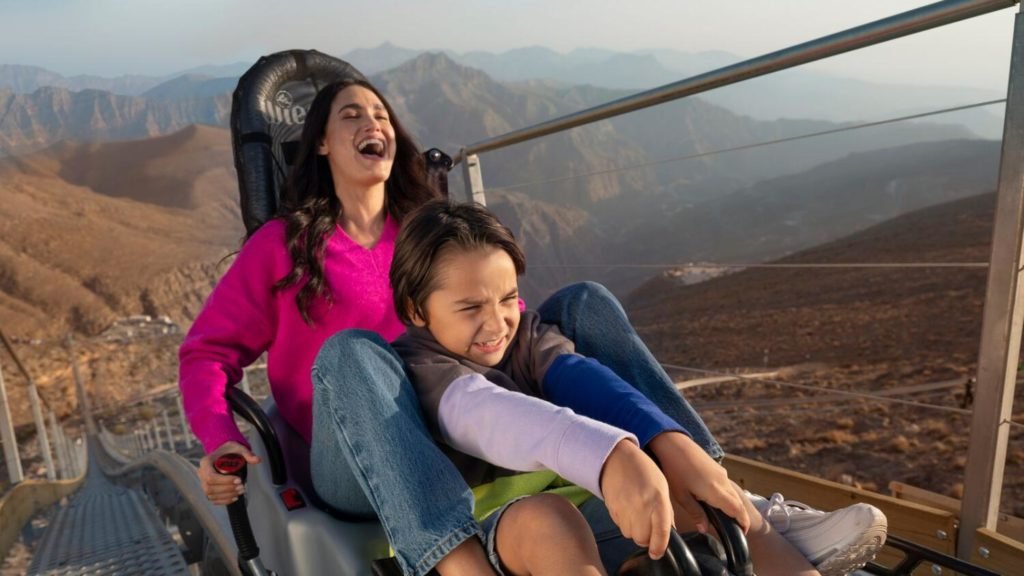 Despite being close to the ground, the ride seems ten times faster. The fully controllable ride lasts around eight minutes to cover 1,885 metres of hairpin curves and undulating whirls." Safety and technical standards are of the utmost importance when building the Jais Sledder.
Dress comfortably without loose clothing (e.g. scarves). The ride requires flat soled shoes. Mobile phones and cameras are not allowed on the ride. The rental of GoPro cameras is not currently available.
Rides may be canceled or operational changes made if safety or operational concerns require them. There are occasional sandstorms and rainstorms in Ras Al Khaimah, but they are usually rare.
If contacted 48 hours prior to the experience, management will be able to accommodate amendments and cancellations without penalty for 30 days from the day of booking.
Tuesday through Sunday, the attraction is open from 9am to 5.30pm.
One adult ride costs Dh40, and an adult and child ride costs Dh60.
also visit: World's Longest Zipline – Jebel Jais Flight
Booking in advance is recommended, especially during busy holidays and weekends. The minimum age for riders is three years old. Up to the age of eight (or under 1.35m tall), children must be accompanied by an older person in a two-seater sled. In order to ride alone, children older than eight must stand at least 1.35m tall. Sleds can carry up to 150 kg.
"We are delighted to add yet another iconic experience to the catalog of unique experiences at Jebel Jais, offering visitors even more opportunities to see the UAE's highest peak," said Alison Grinnell, CEO of RAK Hospitality Holding.
Providing a variety of exceptional attractions and experiences for everyone is our goal as we continue to develop the mountain while still protecting and sustaining the environment, he added."
Contact details:
Contact number: +971 4 815 7333
Mail ID: info@visitjebeljais.com
visit official website: https://visitjebeljais.com