If you're interested in a virtual reality adventure in Dubai, you should check out Arena Games in DIFC!
It may be the only place (or even the only one) in which you can experience a virtual reality experience. The experience is similar to the dramatic film Ready Player One. You may have played a virtual reality game in the past, but nothing this sophisticated. So what makes Arena Games so special? As part of the experience you wear a VR suit over your back, a VR headset, VR goggles, and a VR gun. Isn't it awesome that you can roam around a 128 square meter space? You don't have any cables attaching you to anything, so you have a lot of space to move.
Arena Games in DIFC VR Gaming Zone: Blast Zombies
Arena Games uses the most sophisticated technology in the world of VR, and we have it here in Dubai. Using your gear, you can fully immerse yourself in the game. As you are immersed in the game's virtual environment, the experience is quite intense. You will be curious about where you can find VR gaming in Dubai since that gaming zone has moved (and likely offers only arcade games). Thank goodness Arena Games is here!
Origins of outbreaks – Zero latency
In your visit included playing Outbreak Origins, a zombie-shooter game in which you will be able to shoot and kill zombies. You will be out of breath after this intense 30-minute game (50 minutes including the briefing). There's a feeling that you are in the actual zombie world while playing the game, so it'll make you sweat. An immersion in a different world that involves all of your senses. Gaming enthusiasts in Dubai have the opportunity to experience virtual reality with zero latency!
Arena Games DIFC: How to Play?
Arena Games is easy to play by following these 3 steps:
The Arena Games website (thearenagames.com) lets you select your game.
In the briefing that takes place before your game, you will learn about your opponent's strengths and weaknesses
. Gear up, put on the VR gear, and enjoy your game
List of Games
There is a wide variety of games available at Arena Games. Whether you wish to play an action hero, save the world from zombies, or go back to the '80s, there are plenty of options for you. Take a look at the following games:
Far Cry VR (15+ ages) – a survival game set in a tropical island. In addition to the gameplay, the storyline in this game is very interesting.
Outbreak Origins – It's one of the best classic zombie shooting games that we played, and it's called Outbreak Origins.
Undead Arena CR – You are the star of the game in a post-apocalyptic world where you sadly have to fight zombies in undead Arena CR
Zombie Survival – Play Zombie Survival and shoot zombies coming at you from all angles as you try to stay alive!
Singularity – In this combat-themed VR game, board a military spaceship and battle against space robots.
Engineerium – The game Engineerium takes place within an alien ocean in which gravity is not applicable. Your mission is to complete different tasks in order to rejoin your clan.
Sol Raiders – complete the game objectives as you travel through three futuristic maps. Gameplay is based on player versus player combat (PVP).
Space Pirate Trainer – As you battle against droids hovering around you, pick up your space blasters. Playing this game is similar to playing a classic space shooter arcade game, only now you can shoot them in action.
Arizona Sunshine – A zombie battle-for-survival game called Arizona Sunshine will have you blasting your way through waves of zombies.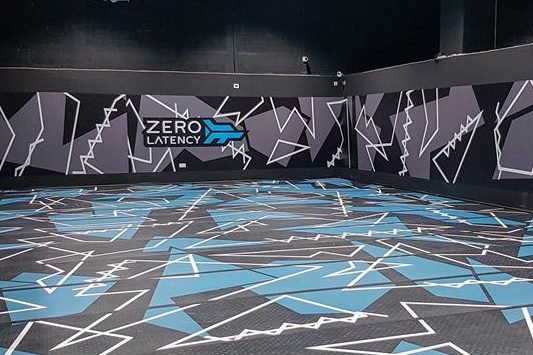 Scarygirl Misson Maybee – You explore toxic caverns and enchanted forests in Scarygirl Misson Maybee, an adventure game. This is a strange land where you must defeat Dr. Maybee and stop her from destroying the planet.
Beat Saber – It's a rhythm game where you slice neon cubes as cool pumping music plays as neon cubes come at you.
Epic Roller Coasters – Play Epic Roller Coasters and experience the thrill of riding epic roller coasters.
Fruit Ninja – In this VR version of Fruit Ninja, you can slash fruits like never before.
John Wick Chronicles – Based on Keannu Reeve's famous movie, John Wick Chronicles is an action-packed VR game.
Richie's Plank Experience – As you walk on a plank high above the ground in Richie's Plank Experience, you will overcome your fear of heights.
Prices
AED 90 gets you access to their VR games. You'll find a complete list of games and the corresponding prices below.
AED 115 for Far Cry VR: Dive Into Insanity (15+)
AED 90 for Zombie – Undead Arena
AED 115 – Outbreak Origins
AED 115 for Singularity
AED 90 for Zombie Survival
AED 115 – Sol Raiders Player vs Player
AED 90 for Engineererium
Mission Maybee: Scary Girl – AED 90
Add-on: Get a USB recording of the game for AED 50
There are no HTC VIVE games available for booking outside of the venue.
Beat Saber
Fruit Ninja
Arizona Sunshine
John Wick Chronicles
Richie's Plank Experience
Epic Rollercoaster
Space Pirate Trainer
Tales of Escape
In Venue Only – AED 60/30 MINS, AED 100/1 HR
Timings for the Arena Games in Dubai
Arena Games is open every day from 12:30pm to 10pm, Sunday through Saturday. For reservations, make sure you book online in advance. In order to get more privacy, you should pick weekdays because these are non-peak hours.
Open from 12:30 PM – 10:00 PM, Sunday – Saturday