The Louvre Abu Dabi is one of the greatest Museum of Art and civilization. It was introduced by French President Emanuel Macron, UAE Vice President Mohammed bin Rashid Al Maktoum and Prince of Abu Dhabi Mohammed bin Zayed Al Nahyan on 8th of November 2017.
The Louvre Abu Dhabi is located on The Saadiyat Island. It is a huge Art Museum in Arabian Peninsula with approximately 24,000 square meters' total area.
It is said that Abu Dhabi paid US$525 million to be connected with the louvre name.
Manuel Rebate is the director and Hissa Al Dhaheri is the Deputy director of the Museum.
Architecture/Design
Jean Novel is the architect of this great museum's building who also designed the Institute du Monde Arabe in Paris. This Museum's construction was officially started on 26th of May 2009 inaugurated by the crown prince of Abu Dhabi and Nicolas Sarkozy the president of France.
The Louvre Abu Dhabi is constructed with the metallic ceiling to reflect the Sunlight into the museum. Its overall effect is meant to show 'the rays of Sunlight passing through the palm fronds'. This Art Museum is designed as a 'floating dome' which allowing the sun to filter the Sunlight.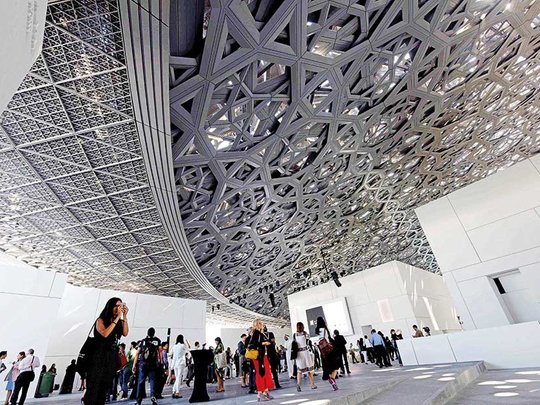 Collection
The permanent collection of Art in this museum engage 6,000 square meters and the temporary Art exhibitions occupy 2,000 square meters.
The Louvre Abu Dhabi Museum galleries tell a sequential history of human creativity that discover the shared ideas and issues that have explained our common humanity from early ages to the present.
There is a global selection of around 600 masterpieces drawn from this museum's growing permanent collection. They regularly update their collection, which means that there is always something exciting and interesting for visitors to explore.
Can you take photos in Louvre?
Photography and Mobile phones are permitted in the Museum. However, there are some areas where flash photography is prohibited.
also visit: http://uaewave.com/2020-expo-pavilions/
How long do you need in Louvre museum?
You'll need almost two hours to do basic walk in the museum but if you want to examine the varies art collection as there are over 35,000 works of art so to do justice we recommend you at least 3 – 4 hours to thoroughly enjoy in the museum.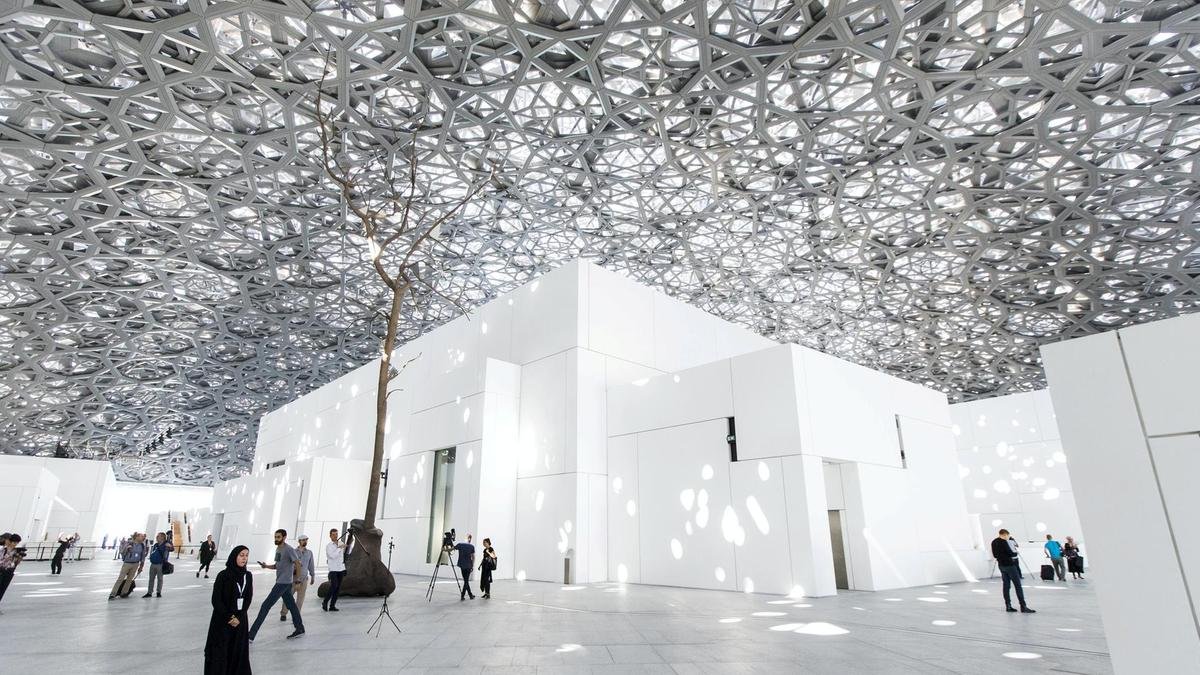 Tickets cost & procedure
The regular tickets cost AED 60, while visitors between the age of 13 to 22 can enter for AED 30.
There are 2 different ways to buy tickets for the museum.
You can buy tickets online for any day with louvre fast-track. These are smart phone tickets you only have to choose the suitable time slot, no need to print them just go straight to the entrance at the front of the Pyramid entrance.
You can buy your tickets to the museum ticket office as well, located under the main Pyramid entrance but in this case you have to be very patient to stand in a long queue.
Admission without pre-booked tickets not assured!
Opening Hours & days
Saturdays to Wednesdays from 10:00 am to 08:00pm
Thursdays and Fridays from 10:00am to 10:00 pm.
The Museum will be closed on Mondays after the opening week.
Offical Website: https://www.louvreabudhabi.ae/