As one of the main highways in Dubai, Sheikh Zayed Road (SZR) connects all seven emirates. In addition to being the busiest road in Dubai, SZR is also home to many high-rise buildings that house residences and hotels. Because of its proximity to many business hubs, the area is always busy and popular with professionals. Find out all about it in this area guide.
AN INSIDER'S GUIDE
It is one of the most prominent highways in the UAE
In the United Arab Emirates, the E11 highway connects the two biggest cities; Dubai and Abu Dhabi
It runs between Dubai and the other emirates
Featuring many residential skyscrapers
Straddles 558.44 km from Abu Dhabi to Ras al Khaimah
Having different names in different emirates
A SURVEY OF THE COMMUNITY
Construction on Sheikh Zayed Road began in 1971, making it the longest road in the UAE. Work on the road ended in 1980. His Highness Sheikh Zayed Bin Sultan Al Nahyan, the former President of the UAE and Ruler of Abu Dhabi, is honored with the road's name. At the border between Abu Dhabi and Saudi Arabia, SZR begins as Abu Dhabi-Ghweifat International Highway, and ends as Al Manama-Ras Al Khaimah Road at the border between Ras Al Khaimah and Oman. From the interchange near Oud Metha to the Jebel Ali area near Dubai-Abu Dhabi border, Sheikh Zayed Road runs through Dubai. Along with Dubai World Trade Center, Emirates Towers, Dubai Mall, Burj Khalifa and many other landmarks, it runs through the heart of the emirate. Sheikh Zayed Road includes the buildings located along the road from Trade Centre to Business Bay. Apart from being high-quality buildings, these buildings also offer many luxurious amenities nearby. There is a road connecting the famous Maze Tower and the Ghaya Residence.
PROPERTIES LOCATED ON SHEIKH ZAYED ROAD
With easy access to many amenities, SZR runs along with many commercial and residential communities. Families and individuals alike enjoy living in the buildings on Sheikh Zayed Road. While the area is popular with renters, new developments offer some freehold options as well. Apartments on Sheikh Zayed Road range from luxurious to affordable, depending on your budget. Since there are so many sub-communities involved and all offer a variety of amenities, the prices of properties are evidently variable. On Sheikh Zayed Road, there are a number of sky-high apartment buildings, but no villa communities.
These towers usually include studios, two-bedroom flats, four-bedroom flats and penthouses. Hotel apartments are also available, which are managed by renowned hospitality groups.
Central air conditioning and central heating are available in most apartments in this area. At SZR, you can rent modern apartments with reserved parking spaces and uninterrupted lifestyle amenities. A variety of amenities are available, including swimming pools, kid play areas, BBQ areas, activity areas and covered parking. Several apartments offer spacious living areas, large halls, and balconies with views of the street below. Buildings that offer Burj Khalifa views are also available.
Sheikh Zayed Road also offers a number of offices for lease. These include small offices, as well as buildings with full floors. Sheikh Zayed Road is home to a variety of commercial properties, including fitted offices, shell-and-core units, furnished spaces, retail stores and showrooms.
Renters looking for furnished apartments in the central, SZR, have a range of options to choose from. Studio apartments on SZR start at AED 25k, and prices go up from there. A one-bedroom apartment on Sheikh Zayed Road rents for AED 43k to AED 125k a year. An average 2-bedroom apartment on SZR will cost you AED 86k, and a 3-bedroom apartment will cost you AED 111k. If you need more space, there are luxurious 4-bedroom flats between AED 140k and AED 210k. Luxurious apartments on SZR can be rented for approximately AED 198k per year. Moreover, penthouses with breathtaking views and luxurious amenities are popular choices. Rental penthouses on Sheikh Zayed Road can be rented for AED 160k to AED 294k if they offer a view of the Burj Khalifa and Emirates Towers.
Studios and 3-bedroom apartments are available on Sheikh Zayed Road for investors. Studio apartments on SZR are generally priced around AED 594k, while 1-bed apartments start at AED 868k. Statistically, studios and 1-bed units are the most popular with rental yields of 7.4% and 7.4%, respectively. On the list, the two-bedroom apartments on Sheikh Zayed Road come in at number five with 5.5% returns.
POPULAR BUILDINGS ON SZR
This road connects most of the cities in the UAE. It has a variety of property types, communities, and landmarks. If you were thinking about shifting here, it might get overwhelming, so be sure to check out all the top buildings on Sheikh Zayed Road to find your next home.
BLUE TOWERS
PARK PLACE TOWER
DUJA TOWER
BURJ AL SALAM TOWER
SHEIKH RASHID BUILDING
The Blue Tower is the most popular building on Sheikh Zayed Road, according to data collected. In addition to being called HHHR Tower, it is a 72-story skyscraper containing both commercial and residential space. The tower has apartments with 1, 2, and 3 bedrooms for rent, as well as offices for rent. Blue Tower's 1-bedroom apartments start at AED 69k per year and go up to AED 70k for 2-bedroom apartments.
SZR's second most popular building is Park Place Towers by Ascott The Residence. The building rises 56 floors above the ground and has 1, 2 and 3-bedroom apartments.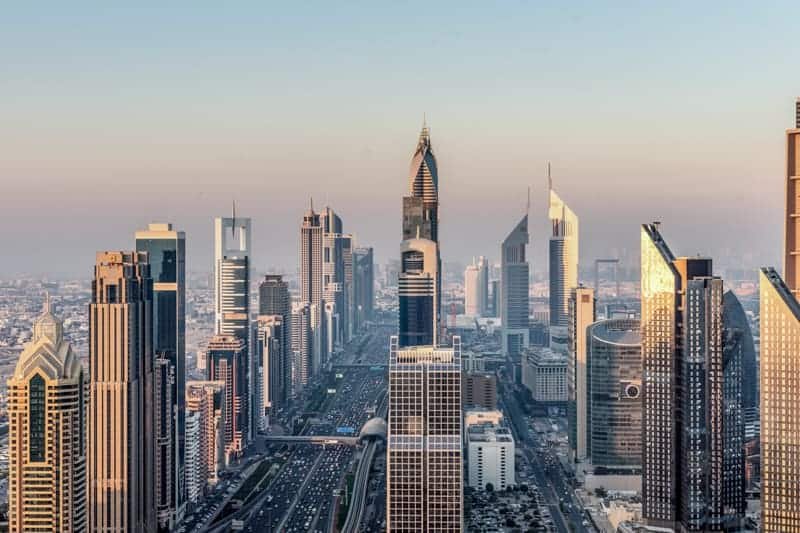 Duja Tower is a 51-storey skyscraper located 195 meters above street level. It houses 900 square feet of 1, 2, and 3-bed apartments. A STANDARD 2-bedroom apartment in Duja Tower, SZR, will cost you around AED 100k per year to rent. In the tower are a Carrefour supermarket, pharmacies, and retail shops, making it a popular spot.
Another popular option along Sheikh Zayed Road is Burj Al Salam, which has around 180 residential units. Apartments range from one bedroom to three bedroom units. Rental apartments in Burj Al Salam Tower are generally only available at affordable prices. Another popular option is the Sheikh Rashid Building. The Latifa Tower and the JAM Tower are also top buildings on SZR.
HOTELS SET ON SHEIKH ZAYED ROAD
The Sheikh Zayed Road is lined with several grand hotels that welcome thousands of tourists every year. Among them are:
Crowne Plaza Sheikh Zayed Road
Towers Rotana
Sheraton Grand Hotel Dubai
Fairmount Dubai
Crowne Plaza is a luxurious 5-star hotel that offers elegant rooms, conference facilities, a restaurant, and a steam room and sauna. Towers Rotana provides 375 fully-furnished suites and apartments. A fitness club and a variety of dining options are available at the hotel. Meeting rooms are equipped with modern amenities.
Apart from hotel rooms for rent, long-term staycations on Sheikh Zayed Road also offer hotel apartments for rent. On SZR, a studio apartment will set you back AED 67k, a 2-bedroom suite will set you back AED 95k and a 3-bed hotel apartment will set you back AED 194.
SHEIKH ZAYED ROAD: TRANSPORTATION AND PARKING
During weekends and peak hours, it is rather difficult to find a parking spot along SZR Road. Parking is available on designated floors in the residential buildings, as well as on city streets. In most apartment buildings, there are many restaurants, supermarkets, pharmacies, and other establishments located on the ground floor. If you're interested in renting an apartment on Sheikh Zayed Road, you can find parking spaces that are allotted based on the covered area.
There are 12 lanes on the highway, so residents should not expect it to be a quiet area especially during the peak hours, 7:00 am to 09:00 am, and then 5:00 pm to 7:00 pm; this area has the reputation of being the busiest highway in the UAE. The Red Line of the Dubai Metro runs parallel to the Long Highway. The area is well served with public transportation. Many residents use it during rush hours to avoid the traffic on the road. There are also many bus stops throughout the neighborhood.
SCHOOLING, AMENITIES, AND HEALTHCARE
There are many healthcare facilities, schools, restaurants, and recreational options on Sheikh Zayed Road. This road connects all these destinations.SHEIKH ZAYED ROAD IS KNOWN TO BE A BUSY AREA, SO FINDING A SUPERMARKET IS NOT A PROBLEM. AL MAYA, UNIQUE TOWER OR NEW DELMA WILL TAKE CARE OF THAT. In addition to City Supermarket, Spinneys Supermarket, and West Zone Fresh Supermarket, there are several other SUPERMARKETS on Sheikh Zayed Road. Also, many smaller supermarkets offer home delivery services to nearby residences.
SHEIKH ZAYED ROAD: CHURCHES, TEMPLES, AND MOSQUES
In Dubai, 85% of the population consists of expats with different beliefs and religions. There are several churches, temples, gurudwaras, and mosques located in the area, catering to people of all faiths.
Churches are located on Sheikh Zayed Road near the beginning of Oud Mehta. The list includes Cathedral of St. Thomas Orthodox, Coptic Church, and St. Mary's Catholic Church.
Hindus and Sikhs have options to choose from in neighbouring communities. The Shiva and Krishna temples are located in Bur Dubai, while Sikh residents can visit the Sindhi Gurdarbar and the Sikh Gurudwara, both located just behind the temples.
Several mosques can be found near Sheikh Zayed Road, such as the Khalifa Bin Da'en Mosque, the Abdulrahman Al Qasimi Mosque, and the Ramadan Juma Mosque.
SCHOOLS NEAR SHEIKH ZAYED ROAD
School areas can be reached from Sheikh Zayed Road in 10 minutes, which is a busy highway. Nearby are many schools with different curricula, as well as daycare centers and nurseries. Pre-primary school options include Willows Children Nursery, Safa Early Learning Center, Little Champion Nursery, Grassland Daycare & Nursery, British Orchard Nursery Dubai, and British Berries Nursery.
There are two schools close by, GEMS Wellington Primary School, which uses the National Curriculum for England, and Jumeirah Baccalaureate School, which uses the International Baccalaureate curriculum. In the vicinity of Sheikh Zayed Road are both well-known primary and secondary schools. Within six minutes of the schools, Delhi Private School offers an Indian curriculum.
Nearby are also the Canadian University of Dubai and the Chartered Institute of Management Accountants (CIMA) Middle East.
A RANGE OF HOSPITAL AND CLINICS ON SHEIKH ZAYED ROAD
Emirates Hospitals Clinics, Elite Style Polyclinic and Padra Clinic are located near Sheikh Zayed Road. The nearest hospitals are MEDCARE Orthopedics & Spine Hospital, MEDCARE Women & Children Hospital, and Burjeel Hospital for Advanced Surgery Dubai.
Dubai World Trade Center AND Downtown Dubai are connected by Sheikh Zayed Road. Burj Khalifa, the tallest building in the world, and the renowned City Walk are also nearby. It is possible to access different parts of the city as well as other cities from Sheikh Zayed Road. Ease of access to the Business Bay and DIFC are also possible thanks to the highway's expansive nature.
A UNIQUE AFTER-DARK EXPERIENCE
Sheikh Zayed Road offers residents an abundance of things to do, keeping residents entertained all day long. A long stretch of hotels and restaurants line the strip. There are also spas and entertainment options.
Times Square Centre, Oasis Mall and the Mall of the Emirates are among the malls along Sheikh Zayed Road. Aside from retail therapy, these malls offer a wide range of fun activities for families, youngsters, and kids. The Mall of the Emirates hosts VR Park and Ski Dubai.
Dubai Marina Mall is located further south, towards the Jebel Ali area, and offers a variety of entertainment and shopping options. In addition to high-street brands and luxury brands, these malls offer multiple entertainment options, as well as a wide selection of cafes and restaurants. Ibn Battuta Mall is another family-favorite option in Jebel Ali, with many fashion stores and retail outlets.
Sheikh Zayed Road is home to several fast-food chains, cafes, and restaurants. In addition to Subway and McDonald's, there is KFC, Wendy's, and more. Zaroob is a Lebanese restaurant; Johnny Rockets is an American diner; and Little Bangkok is a Thai restaurant.
Additionally, fine dining restaurants can be found in many hotels, including the VOCO Hotel's TRESIND molecular gastronomy Indian restaurant, Crown Plaza's Chamas Brazilian meat eatery, and Fairmount Hotel's Noire European restaurant. There are a number of nightlife options in Dubai, including Level 43 Sky Lounge at Four Points by Sheraton Sheikh Zayed Road, Cavalli Club at Fairmount Dubai, and Vii Dubai at the Conrad Dubai.
During holidays and weekends, this megacity's beaches are crowded with tourists, nationals and expats. Among the well-known beaches near Sheikh Zayed Road are Jumeirah Beach, Kite Beach, and JBR Beach. It takes about 15 minutes to drive to all of them. In addition to fitness amenities, there are waterfront restaurants and shaded walkways.
NEARBY LOCATIONS
Sheikh Zayed Road is 15 minutes away from Dubai International Airport
Downtown Dubai is just 12 minutes away
A journey of one hour and 26 minutes will take you to Abu Dhabi
The Dubai Metro's Red Line parallels Sheikh Zayed Road