There is no need to leave the cool water to get deliciously refreshing bevvies and lip-smacking snacks at the UAE's top swim-up bars at some of the country's best pools.
With these swim-up bars, you can order straight from the bar and stay chilled all summer long.
Andreea's, Dubai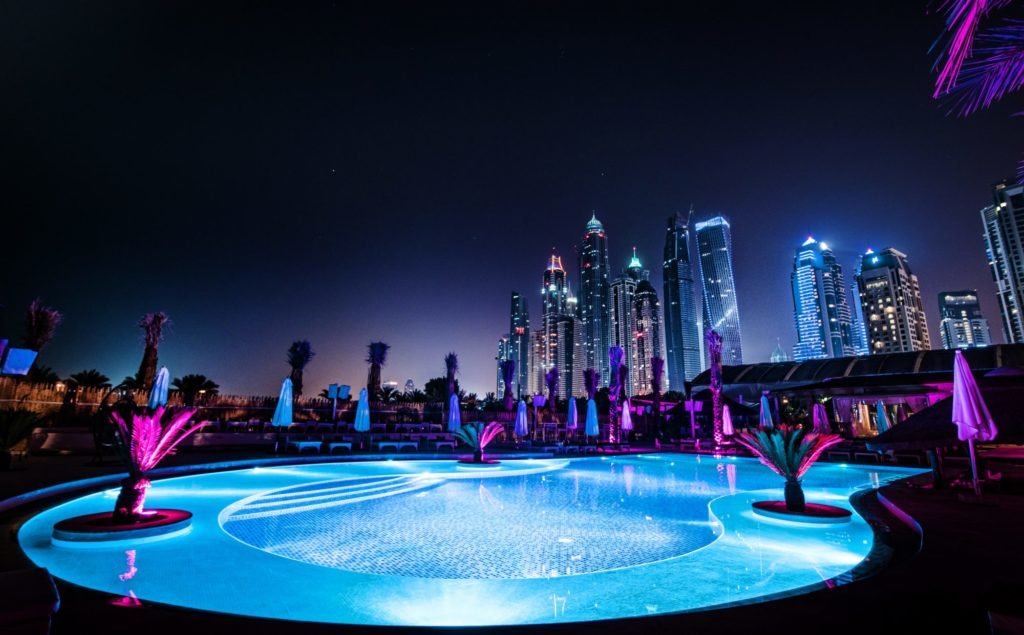 It now has a super-sized pool with a swim-up bar and in-water loungers, and is three times the size it was previously. For the ultimate day out, sunbeds, umbrellas, towels, and shaded cabanas surround the pool. 
Minimum spend of Dhs250 for women and Dhs300 for men. Daily, 10am-10pm.
The Andreea's Beach Club is located at the Habtoor Grand Resort Autograph Collection, Dubai (058 693 5778).
Azure Pool & Beach Bar, Ras Al Khaimah
Azure offers casual Mediterranean fare by the pool or a cool mixed drink at the pool bar. Set against the blue water of the Arabian Sea, the hotel's temperature-controlled swimming pools provide a relaxing and refreshing escape. There is a similar offer for adults at the adults-only Sunset Beach Club & Lounge for the same price.
It costs Dhs200 for adults (Dhs150 redeemable on food and beverages) and Dhs100 for kids aged four to twelve (Dhs75 redeemable on food and beverages).
The Azure Pool & Beach Bar can be reached at RKTWA.GM@waldorfastoria.com or at 072035555.
Bayshore Beach Club, Abu Dhabi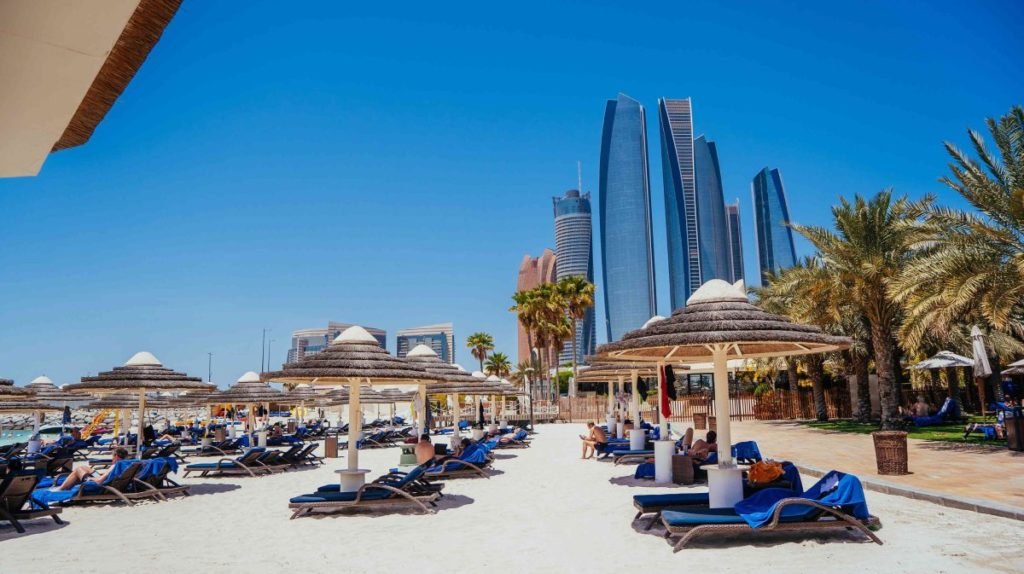 When it comes to beach passes for a day, the Bayshore Club at the InterContinental Abu Dhabi has a lot to offer. There are long stretches of private beach and a waterslide, as well as an impressive menu. Infinity pool views and a swim-up bar are all you'll get if you're like us.
Access to the pool costs Dhs120 (couple), Dhs75 (per man), Dhs50 (per woman), and Dhs30 (per child). Hours of operation are 9am-7pm daily.
InterContinental Abu Dhabi, www.abudhabi.intercontinental.com/the-bayshore-offers (02 697 2317).
La Baie, Dubai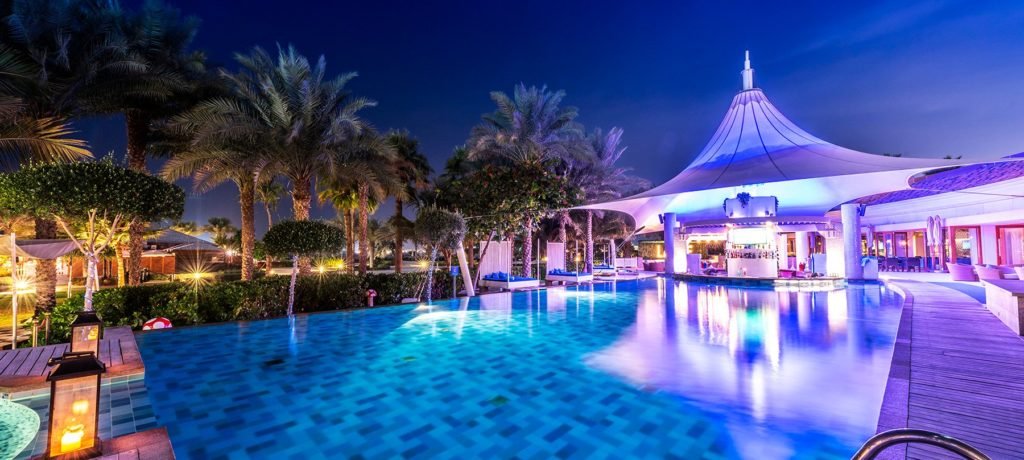 Besides a stylish pool bar and an ideal Mediterranean vibe, there's more to make this a great pool day. Take a dip in the adults-only pool and then cool off in your private cabana while enjoying the finest food available. We love this swim-up bar to the moon and back.
It costs Dhs300 during the week and Dhs500 during the weekend. Every day from 12pm to 11pm.
La Baie, The Ritz Carlton Dubai, www.labaiedubai.com, (04 399 4000)
La Brisas Leisure Pool, Emirates Palace, Abu Dhabi
There are palm trees, loungers, and hammocks surrounding the swim-up bar at this grand hotel. Late afternoon is a popular time for the laid-back bar, which serves mocktails, juices, mixed drinks, as well as bar snacks. There is also a swim-up pool bar for adults and a large gazebo Jacuzzi, three smaller bubble pools in the pool and a leisure pool on the deck.
Prices start at Dhs400 for adults, and Dhs200 for children aged six to twelve (fully redeemed on food and beverages). 10am to sunset, every day.
La Brisas Leisure Pool, Emirates Palace, Abu Dhabi, www.emiratespalace.ae (02 690 9000).
Le Méridien Dubai Hotel & Conference Centre, Dubai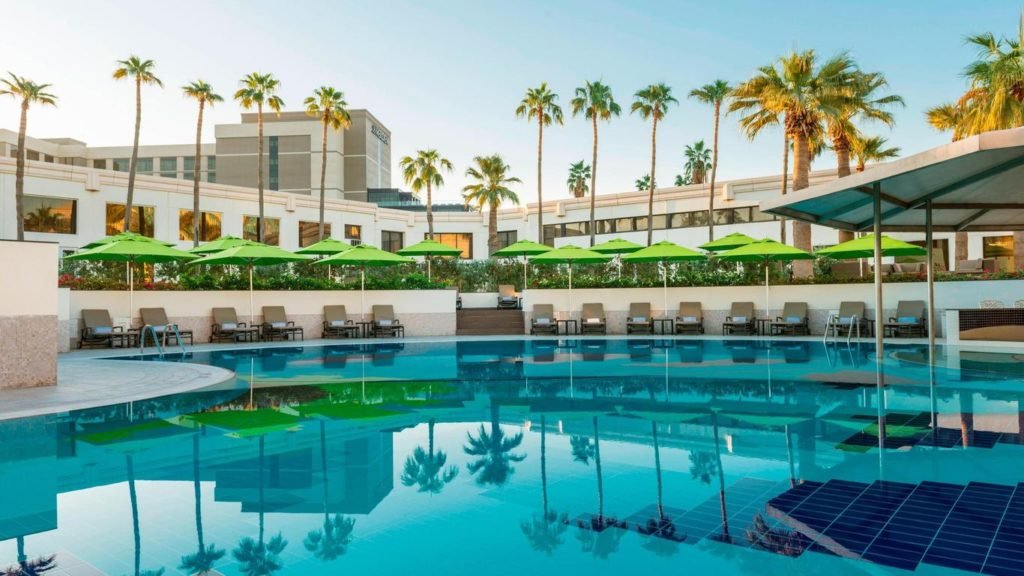 A 38-acre landscaped garden surrounds the hotel's oval-shaped pool, which is 18 metres long. The all-day dining menu at the Courtyard Pool bar is surrounded by trees and flowers, providing shade from the sun. Don't miss out on the lobster salad or sushi plate.
Guests of the hotel are free. 9am to 7pm.
Le Méridien Dubai Hotel & Conference Centre, Garhoud, www.lemeridien-dubai.com (04 217 0000).  
Nation Riviera Beach Club, Abu Dhabi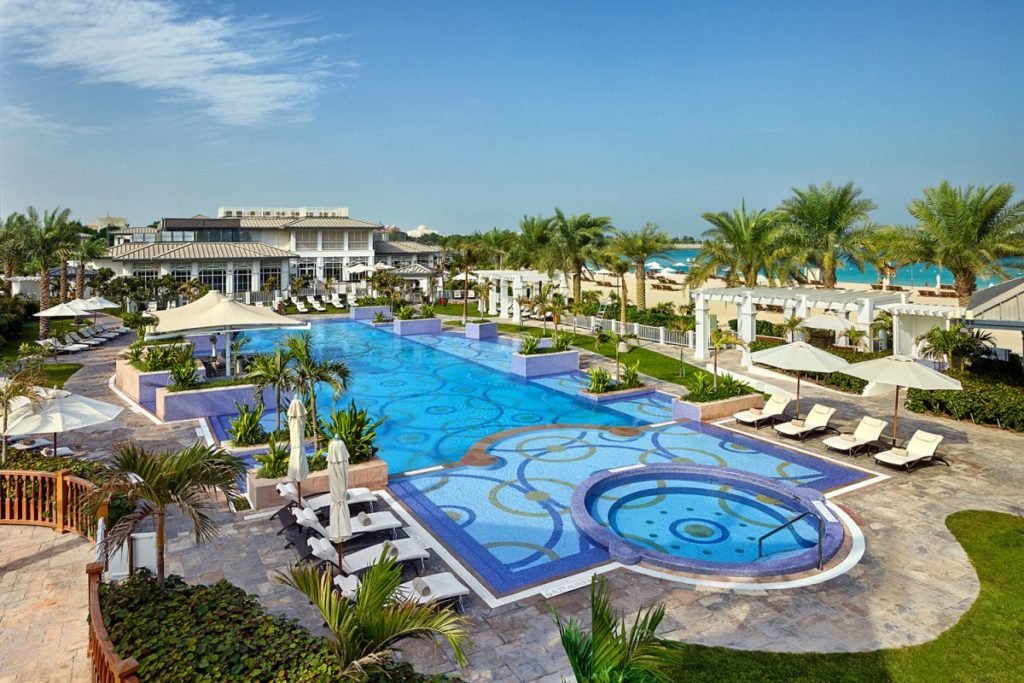 The hotel's relaxed beach club is a great place to relax, catch the sun, and enjoy a delicious lunch in sharp contrast to its luxurious formality. You can order fruity bespoke drinks at the swim-up bar counters. Families and couples can also take advantage of special rates!
On Mondays through Fridays, the price is 160 dirhams, and on Saturdays and Sundays, the price is 230 dirhams. Under four years of age are free. The adults' pool is open from 8am to 8pm, and the kids' pool is open from 9am to 6pm.
Nation Riviera Beach Club, The St Regis Abu Dhabi, Nation Towers, www.nationrivierabeachclub.com (02 694 4780).
Pool Bar, Habtoor Grand Resort Dubai
One of Dubai's best swim-up bars is the Pool Bar at Habtoor Grand Resort. At the poolside restaurant, you can order salads, sandwiches, snacks, pizzas and desserts along with your favourite soft drinks and house beverages.
A discount of Dhs200 (Dhs125 redeemable on food and beverages) during the week and a discount of Dhs300 (Dhs200 redeemable on food and beverages) during the weekend. Kids between the ages of five and 15 pay Dhs80. From 8.30pm to 7.30pm daily.
Pool Bar, Habtoor Grand Resort, Dubai, hgrs.fbreservation@habtoorhospitality.com, (04 408 4257)
Poolside, Fairmont Bab Al Bahr, Abu Dhabi
Views of Abu Dhabi Creek and Sheikh Zayed Grand Mosque can be enjoyed from this Olympic-sized pool (50 metres). In addition to the Poolside, which is surrounded by contemporary design and is a full house on weekends, the Hotel also has an adjacent white sand beach. At the bar, you can order gourmet burgers, classic mixed drinks, or coolers. The pool is open from 9am to sunset, while food is available between 11am and 6pm.
The price is Dhs149 per person during the week, and Dhs199 per person during weekends (Dhs100 can be redeemed for food and beverages during both times). Open daily from 9 a.m. to sunset.
Poolside, Fairmont Bab Al Bahr, www.fairmont.com/abu-dhabi, (02 654 3333)  
Raffles Dubai, Dubai
On one side, Raffles' pool restaurant and bar is surrounded by lush gardens, while on the other, it overlooks the stunning Dubai skyline. Temperature-controlled waves adorn the 22-metre-long pool deck, which keeps it cool even when the temperature rises. Poke bowls, bento boxes with multiple cuisines, and refreshing beverages are all part of the menu.
Weekdays: Dh175 per person (Dh100 redeemable on food and beverages; one kid under 12 years of age is complimentary); weekends: Dh200 per person (Dh150 redeemable on food and beverages); kids under 12: Dh75. Guests of hotels and spas are free to attend. 9:00am-7:00pm.
Raffles Dubai, Wafi, Oud Metha, www.raffles.com/dubai, (04 324 8888).  
Kempinski Hotel & Residences Palm Jumeirah, Dubai
At Kempinski Palm Jumeirah, take a dip in the gorgeous 1,200 square meters, 1.4 meter deep, free-form swimming pool surrounded by lush greenery and palm trees. Enjoy a bite at the pool bar or order delicacies at Villamoré restaurant on land. You can find us wherever you are.

There will be a charge of Dhs225 per person (fully refundable on food and beverages at Villamoré Restaurant, free for children under 12 years old. Mon-Sun, 10am-sunset.
Kempinski Hotel & Residences Palm Jumeirah Dubai, fb.thepalm@kempinski.com, (04 444 2000; 04 444 2940)
Waves, Abu Dhabi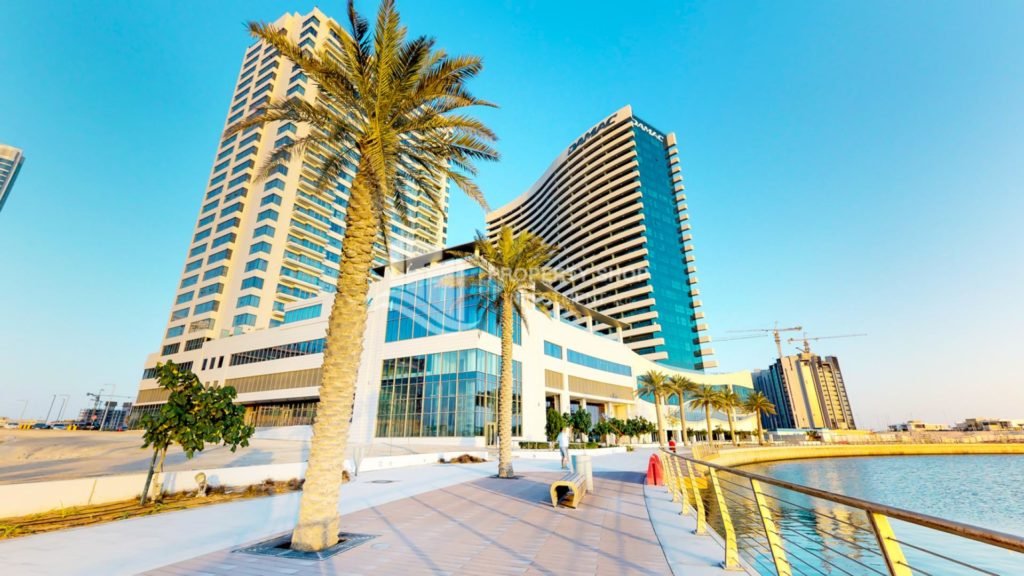 You can probably imagine the ideal swim-up bar looking like this. There is a beach shack-style roof, Gulf-views, fresh juices, and fresh salads on the menu. It is all in keeping with a relaxing holiday-feel, which is also aided by the long drive from the city. This swim-up bar is one of the best in the capital.
One complimentary beverage is included in the Dh50 per person fee (includes beach access, pool access, and pool access). Daily 9am-7pm.
Danat Jebel Dhanna Resort, Al Ruwais (056 417 4978).