Now you have a chance to experience the Jebel Jais Flight, the world's longest zipline certified by Guinness World Records! As you zip through the majestic mountains of Ras Al Khaimah, the UAE, you will surely get your heart racing. Having two people flying at once in the "Superman" position ensures everyone gets the most comfortable view.
More Information
Approximately 2 hours from Dubai, find the highest point of the UAE.
The Hajjar Mountains offer magnificent views
You can fly at speeds between 120kph and 160kph
Enjoy the total length of 2,832 meters
Includes a flight certificate
Requirements
The weight should be between 40 and 130 kilos. (Please keep in mind that the weather conditions may have an impact on your experience.)
Height (cms): Min 122
In order to participate in the tour on their own, participants under the age of 18 who meet the height and weight requirements will have to be accompanied by a parent or guardian and sign a waiver.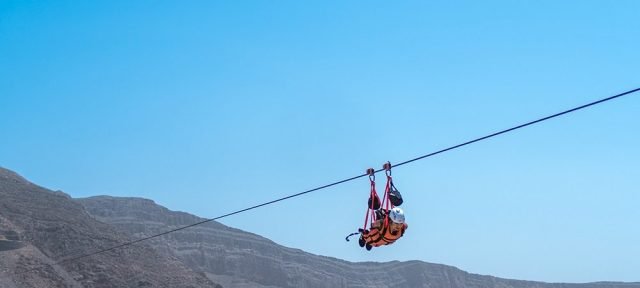 If you are in good health so you are eligible.
No substances that impair judgment, such as narcotics, spirits, or alcohol
You should always wear a face mask in the Adventure Center and at the Information Kiosk.
A valid passport or Emirates ID must be presented at the counter by every participant.
For a small fee, you can take home photos and videos of your experience.
Recommendations
Comfortable athletic clothing is recommended.
Made of durable materials that can take the rough terrain
You should bring a jacket if you are going during the winter months, since the mountain weather can be quite cold and windy.
No flip-flops or loose footwear is allowed. Wear strong running shoes or trainers with good traction.
Don't forget to apply sunblock!
It is encouraged that guests bring their own facial sanitizing masks and sanitizing dispensers.
It is prohibited to wear skirt dresses, loose footwear, plaster casts, knee pads/elbow pads/shoulder pads/ankle pads, nor crutches or flip flops.
More about Zipline
Maximum capacity of operation is 80%.
There will be continual sterilisation of all common areas all day long.
The temperature will be checked before team members, customers, suppliers, etc. enter the facilities. Those at an excessive temperature of 38 degrees will not be permitted entry.
Users are required to wear face masks.
There must be a physical distance of two meters between individuals.
Cars must be left with all personal belongings.
Toroverde will sanitize and sterilize all equipment it provides; harnesses will be quarantined for 24 hours after each use.
Services Available:
Rent a GoPro (AED 135)
Toilets
Gift Shop
Cafe
Free Car Parking