A path lane centered by a lake-looking pool and surrounded by high-class eateries of different cuisines. Zawaya walk is a beautiful family location. Decorated by lights, small bridges over a lake-looking artificial pool with wooden benches aside.
This place is near the University City of Sharjah and a 12-minute drive from Nahda, Sharjah. It's an easily accessible location. It has a beautiful entrance with an arch made with lights. Followed by a lake centered between two pathways. There are numerous eateries surrounding the pathways with a lovely ambiance and beautiful terrace garden sittings. There are also a couple of air-conditioned indoor children's play areas. 
Towards the end of the pathway, there's a huge Carrefour hypermarket. So, the place is a perfect location for a family. A walking or cycling pathway, groceries point, child entertainment sections, tea, coffee, or ice-cream place by the poolside. Moreover, a variety of eateries that serve different cuisines, making it all a perfect outing.
Restaurants in Zawaya walk
This place has eateries serving multiple cuisines. Fast food, Thai, Asian, Lebanese, Seafood, and International food chains, all are available here.
Here's a list of some restaurants in Zawaya walk.
1. Tim Hortons: an international food chain serving beverages, sandwiches, and all snacks you would need to have for a leisurely walk beside the lake.
2. Red Shrimps: for all shrimp lovers. Offers a great set of 35 shrimps for just 100 bucks! They have properly styled sitting to have shrimps. Provides aprons and special pots while eating.
3. Red Tomato Pizza: serving a great variety of pizzas and pasta. They have many different types of pizzas and a lovely ambiance. Each dish costs around AED 40-50 and is a perfect serving for a single person.
4. Bangkok Town: Located inside the little mall in the area. They provide a look and taste of Bangkok and original Thai food.
5. CaliBurger: just beside the Thai restaurant. CaliBurger provides single and meal burgers with rates around AED 20 for a single burger and AED 40 for a meal. They have a special offer on lunch meals these days which you should not miss!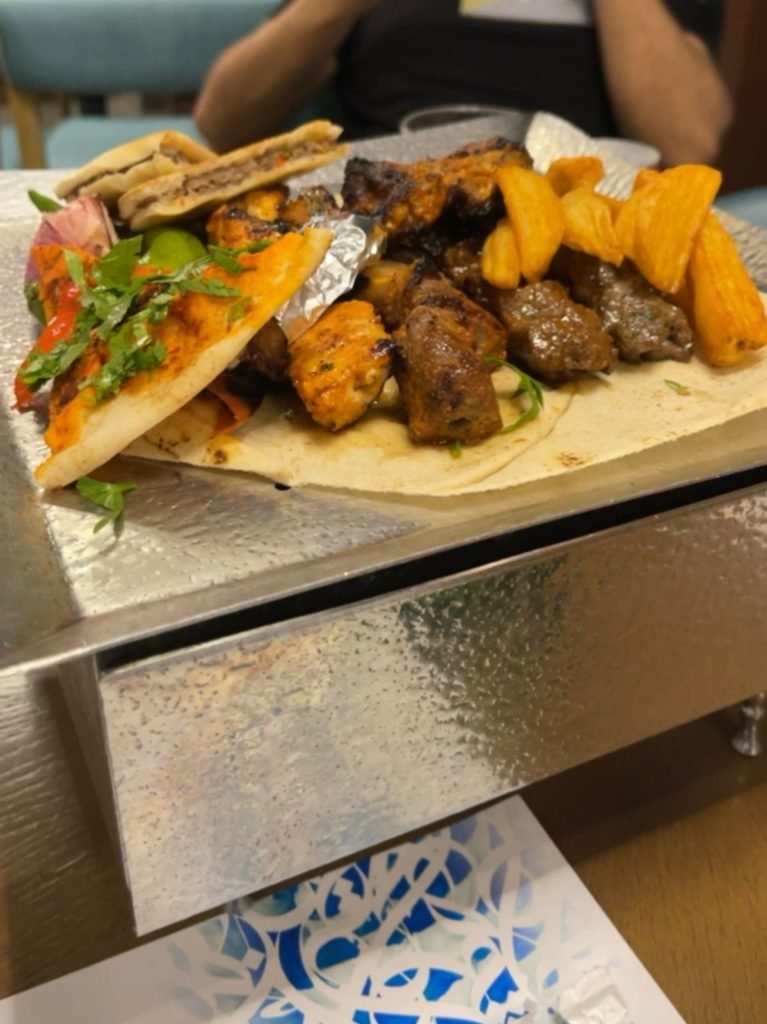 6. Silk restaurant: a Lebanese cuisine restaurant with a lovely ambiance and slight Arabic music played on the violin. They serve delicious mixed grills and sandwiches at good rates. The per person rate here is around AED 60. Their falafel wrap is a must-try within just AED 10!
7. Zero Chicken Tikka: an Indian cuisine restaurant on the backside of the pathways. It gives aromas of authentic Indian spices while walking beside.
8. Churros: A small spot of churros for the perfect snack. It is at the end of the pathways, right opposite the Carrefour hypermarket.
9. Starbucks: the international beverages and coffee chain. A perfect place to have your coffee besides the pool.
10. Baskin Robbins: the favorite ice-cream chain for everyone. A perfect sweet to end the day.
In addition to the restaurants and stores, zawaya walk also has a bank branch for the ADIB bank. The place has numerous restaurants and amenities. It is a spot for many entertainments and can be visited on a casual day for groceries and a walk.