FIFA World Cup 2022 Qatar-In 2022, the 22nd FIFA World Cup will be held, which is the quadrennial championship for men's national teams from FIFA members. From 21 November to 18 December 2022, it will be held in Qatar. After the 2002 tournament in South Korea and Japan, this is the first World Cup ever to be held in the Arab world and 2nd in entire ASIA. Additionally, this is the last World Cup to include 32 teams, with 48 teams set to participate in the 2026 tournament in the US, Mexico, and Canada.
This World Cup will take place between late-November and mid-December because Qatar's intense summer heat makes it impossible to hold it in May, June, or July; it will take place over just 28 days. The first match will be contested at Al Thumama Stadium in Doha between Senegal and the Netherlands. During Qatar National Day on 18 December 2022, the final is scheduled to take place. France is the defending World Cup champion.
The legitimacy of the FIFA World Cup 2022 in Qatar was questioned in May 2011 due to allegations of corruption within FIFA senior officials. A corruption accusation has been leveled against Qatar over its right to host the event. Despite FIFA's internal investigation and reports cleared Qatar of any violation.
Host selection
A request for bids for the 2018 FIFA World Cup and the 2022 FIFA World Cup was made in January 2009, and national associations had until 2 February 2009 to express their interest. Initially, eleven bids were submitted; Mexico later withdrew, and Indonesia's bid was rejected after it failed to provide a letter of guarantee from the Indonesian government. The Indonesian government had not ruled out bidding for the 2026 FIFA World Cup until Qatar won the 2022 event. Non-UEFA countries gradually withdrew their bids for the 2018 tournament, ensuring that a UEFA nation hosted the event and thereby disqualifying non-UEFA nations from bidding for the 2022 tournament.
Ultimately, five bids were submitted for the 2022 FIFA World Cup: Australia, Japan, Qatar, South Korea, and the United States. During the FIFA Executive Committee meeting in Zürich on 2 December 2010, all twenty-two members voted to select the hosts for both tournaments. In connection with allegations of corruption regarding their votes, two members of FIFA's executive committee have been suspended before the vote.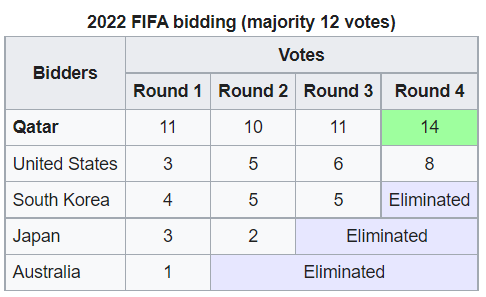 A FIFA World Cup has never been awarded to a country smaller than Qatar – the next smallest country is Switzerland, host of the 1954 FIFA World Cup, which is three times the size of Qatar and only needs to host 16 teams. The country is also the only country (other than Uruguay, who hosted the first-ever World Cup) to be awarded a FIFA World Cup despite never qualifying. The 2002 FIFA World Cup was to be hosted by Japan in partnership with South Korea without Japan having qualified for the finals. However, the country did qualify for the 1998 FIFA World Cup.
Qualification and Teams
Qualification competitions are organised by FIFA's six continental confederations. Qualifying was open to all FIFA member associations, of which there are currently 211. The tournament was automatically qualified for Qatar as the hosts. Qatar was, however, compelled by the AFC to participate in Asian qualifying since the first two rounds also qualify the country for 2023. As a result, Lebanon advanced to the final stage rather than Qatar, who finished first in their group. France, the reigning World Cup champions, also advanced to the final stages. In addition to France, Saint Lucia participated in qualification, but withdrew prior to their first match. The COVID-19 pandemic caused North Korea to withdraw from the qualifying round. A second withdrawal was made by Samoa before the OFC draw took place. Hunga Tonga and Hunga Ha'apai erupted and a tsunami struck in 2022, which led to Tonga's withdrawal. The travel restrictions caused by COVID-19 outbreaks also caused Vanuatu and Cook Islands to withdraw.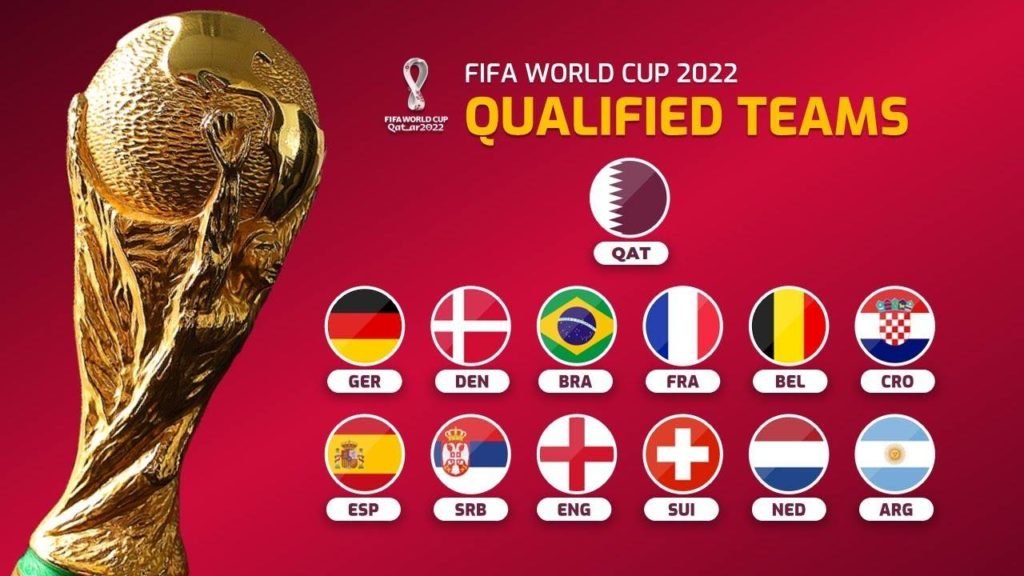 It is estimated that 24 countries competed at the previous FIFA World Cup in 2018, of the 32 that qualified for the 2022 edition. The Qataris become the first hosts to participate in the FIFA World Cup since Italy in 1934, becoming the only team making its debut. Thus, no teams that qualified through qualification made their World Cup debuts at the 2022 tournament. Following their absence in 2018, the Netherlands, Ecuador, Ghana, Cameroon, and the United States returned to the tournament.
This was Canada's first appearance since 1986 – a record gap for a European team, since 1958 was the only previous appearance. The first appearance for Wales in 64 years was a record for a European team, as they participated only once previously in 1958.
Accomodation
For international fans, accommodations will need to be arranged. Qatar will offer a broad range of accommodation options for you in 2022, so you can make the most of your time there. Hotel rooms, apartments, villas, desert camping in Fan Village, and cruise ship rooms are all included. No matter where you stay in Doha, whether you're in downtown or on an island residence, you're within easy reach of everything. The stadiums are only a short distance apart, so you'll be able to attend multiple matches a day during the group stage without changing accommodations. In Qatar, you will find a fusion of old and new, pristine waters lap against desert sands, and nature meets modernity seamlessly. Qatar welcomes you to its land, where old and new blend seamlessly.
Hayya Card
To enter the State of Qatar and access the stadiums, successful ticket applicants are reminded that all local and international fans must apply for a Hayya Card [and confirm their accommodations] after purchasing tickets. Applicants for Hayya Cards will be able to apply any time. Hayya Card is administered by the Qatari government. Neither FIFA nor its affiliates are responsible for the application process, issuance, or use of such cards.
Visit Qatar2022.qa for more information
Transport in Qatar
Are you an international visitor? There are excellent air, road, and port connections between Qatar and the rest of the world. There are fast and efficient transport options in the country, including buses, metros, trams, taxis, and ride-sharing services. Find information about your journey to Qatar – and how to reach stadiums, attractions, and events – at Qatar's transport hub.
Getting to Stadiums and HAYYA Application
To ensure fans have an enjoyable travel experience to matches, the FIFA Fan FestivalTM, and their accommodations, every FIFA World Cup 2022TM stadium is well connected to public transportation. There will also be a celebration of arts and culture in Qatar in conjunction with the tournament. The Hayya to Qatar 2022 app and website will provide more information about attractions and events closer to the tournament.
Download here HAYYA TO QATAR APP

Matchday Transportation
Matchday travel is free for Hayya Card holders and Hayya to Qatar 2022 app users. You can download as mentioned the links above. Public buses, trams, metros, Education City and Lusail trams, as well as tournament buses are included in this service. By metro, you can easily access the stadiums and the FIFA Fan Festival. Please check back closer to the tournament to learn more about Stadium Express and shuttle buses.
Accessible Transportation
In addition to accommodating passengers with disabilities, Karwa taxis also cater to those with limited mobility. Download the iOS or Android app or call +974 800 8294 (toll-free). Dedicated taxi drop-off points are located near the stadium entrances for these taxis.
There are elevators in the metro and public buses, as well as spaces for wheelchair users and guide dogs. If you are traveling by Qatar Rail or Mowasalat, make sure you check with them beforehand.